Welcome to the world of Eurythmy!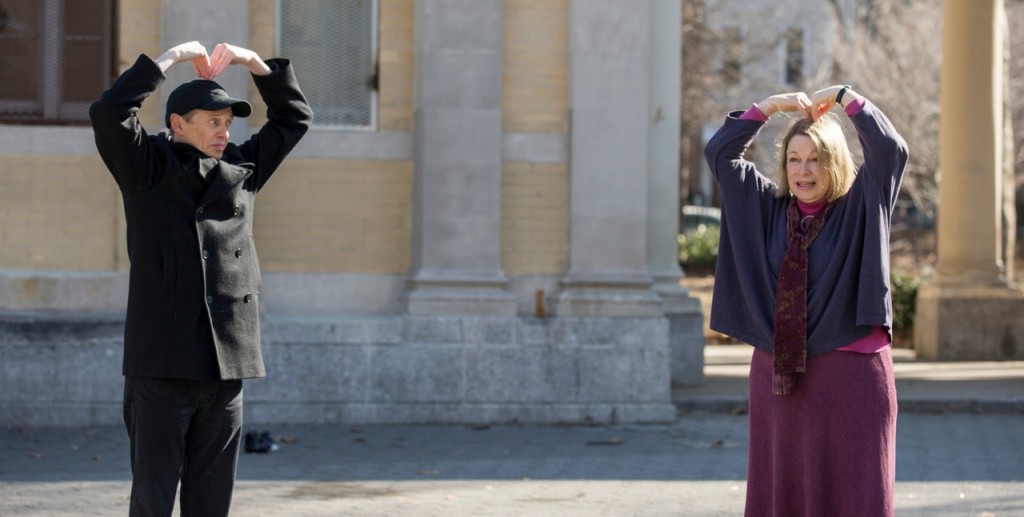 I hope you will find something on this website that "speaks" to you, and that you will soon have the opportunity to experience Eurythmy directly.
Eurythmy is a form of healing movement which can be experienced
both in group workshops or seminars and on an individual basis with Eurythmy Therapy.  I offer individual sessions as well as group workshops.  I have completed the trainings and have experience in each of the applications of Eurythmy described in "

How Does Eurythmy Live in
the World?
"
Steve Buscemi and his friends had their first experience of Eurythmy when we did a group mini-workshop in a park in Brooklyn's Park Slope for his new AOL web series, Park Bench.   It was so gratifying to see how beautifully they came into the Eurythmy movements when neither Steve nor any of his friends had ever done Eurythmy before that day.  And I was so happy when I learned we would be doing the Eurythmy in a park setting where there were columns.  I was at first hesitant about doing it outside.  Then when I heard about the columns, I said the only time I had done Eurythmy outdoors was in Greece, and the columns brought the sense of form in the mood of Greece to our surroundings.  This is fitting also because the origins of Eurythmy were inspired by the sounds of speech in our language and ancient Greek temple dancing. 
I hope you will enjoy exploring this Eurythmy site. If you have questions or comments, please contact me at:  info@larsoneurythmy.com
I look forward to hearing from you.  Have a wonderful, light-filled and inspiring day!
Linda Larson, Eurythmist and Eurythmy Therapist